telescopeѲptics.net ▪ ▪ ▪ ▪ ▪▪▪▪ ▪ ▪ ▪ ▪ ▪ ▪ ▪ ▪ ▪ CONTENTS

◄ 6.5. Strehl ratio ▐ 6.6. MTF 2 ►

6.6. MTF -

Modulation transfer function
Modulation transfer function (MTF) is commonly used to describe the outcome of the interaction of point spread functions (PSF) over the image of an object that is a continuous sinusoidal intensity pattern, in effect a continuum of dark and bright lines gradually changing from maxima (middle of the bright line) to minima (middle of the dark line). More specifically, the combined intensity distribution in its image resulting from point-image patterns close enough to affect each other. The MTF is a part of a complex function describing this phenomenon, called Optical transfer function, or OTF.
The OTF has two components: (1) MTF, and (2) phase-transfer function. The latter is present in asymmetrical aberrations, like coma and astigmatism, describing radial linear shift in the intensity pattern. MTF alone shows the efficiency of contrast transfer from the object to its image for a single orientation in the aberrated image, normally that along the axis of aberration. Similar to MTF is contrast transfer function (CTF), the difference being that the latter describes impulse response (i.e. contrast change in the image vs. object) based on an object that is a continuous square wave intensity distribution, in effect a continuum of bright and dark lines with even intensity distribution over them.
FIG. 99 illustrates characteristic forms of the MTF, showing contrast drop as a function of spatial frequency ν for brightly illuminated object with high inherent contrast. For comparison, graph also shows CTF.


FIGURE 99: LEFT: Standardized MTF object form are parallel, equally spaced bright contrasty lines on dark background, with irradiance modulation defined as infinite sinusoidal distribution. Line width, equaling that of the bright/light pair, is inversely proportional to the spatial frequency ν, normalized to 1 at the cutoff frequency D/λ cycles per radian (the inverse of the angular limit to resolution λ/D in radians), where image contrast drops to zero (linear cutoff frequency is the inverse of the linear limit to resolution λF, or 1/λF in lines per mm, for λ in mm). This form of intensity distribution can be represented as periodic sinusoidal wave, with the contrast determined by the relative intensity of its maxima vs. minima. Image of this pattern has the relative intensity and contrast dampened due to the effect of diffraction, whether without or with aberrations present, At any given frequency, MTF is a ratio of the output (image) to input (object) modulation amplitude. Mathematically, it is a Fourier transform of the aperture's PSF (more specifically, it is an integrated sum of the PSFs for every point over its intensity distribution profile, i.e. convolution of object's Gaussian image and aperture's PSF). At the limit of resolution for aberration-free aperture, the line width is nearly equal to the aperture's FWHM.
RIGHT: The modulation function MTF for clear aberration-free aperture (P) is the ultimate limit to the overall contrast and resolution set by diffraction for this type of object. Normalized to 1, it equals the relative overlapping area of two circles of unit diameter, at a center separation ν, the normalized spatial frequency (top right, yellow overlap area for ν~0.3). MTF in aberrated aperture (A, 1/4 wave P-V of spherical aberration) is lower than P over the entire range of frequencies. Relative contrast RC shows contrast differential between the two more clearly, in units of the perfect aperture contrast level normalized to 1 over the frequency range. The low-contrast thresholds for bright (LCB) and dim (LCD) details, is an informal, but useful addition by Rutten and Venrooij. It indicates the approximate cutoff levels for typical low-contrast details, requiring higher minimum contrast at the resolution limit than the standard bright, contrasty MTF pattern (original plots are constructed by starting with 0.1 contrast at zero frequency, decreasing toward zero at regular cutoff frequency, with limit to resolution determined by the minimum contrast required by the eye; the LCB and LCD lines above are based on these plots, only with the contrast at zero frequency normalized to 1). As shown, the approximate resolution limit is 1/2 and 1/7 of the standard MTF cutoff frequency for bright and dim low-contrast objects, respectively. Note that different patterns of intensity distribution have different contrast transfer (more general term, since object's intensity pattern does not have to follow any form of modulation); for instance, periodic square wave (i.e. pattern of clearly defined dark and bright lines) will have contrast transfer higher at all frequencies either in aberration-free aperture (solid blue line), or for any given level of aberration, as the CTF for clear aberration-free aperture (blue plot) indicates.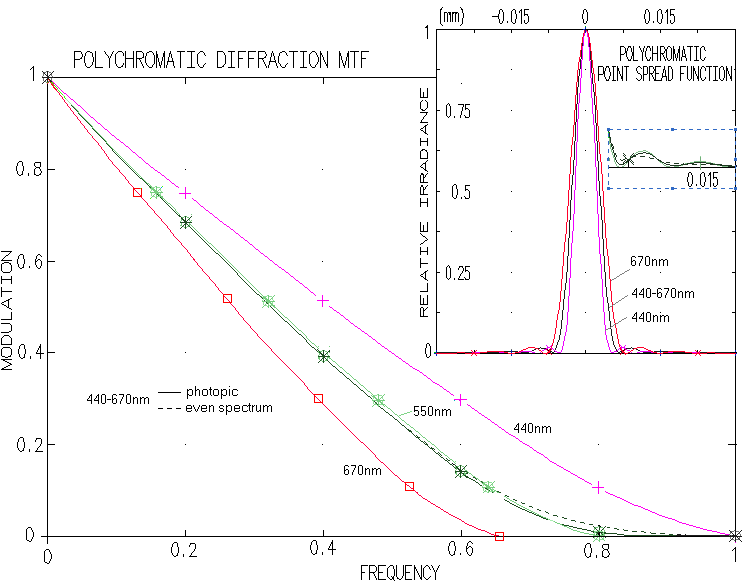 BOTTOM: Note that the above graph represents monochromatic MTF (as indicated by the cutoff frequency 1/λF). Polychromatic MTF cutoff frequency - and to a slight extent, the overall shape - is determined by the combined PSF intensity distribution within the wavelength range. As large inset at right illustrates, while PSF for individual wavelengths differ significantly at the ends of given spectral range (first minima being at 1.22λF), when combined they nearly offset around the central wavelength's PSF (actual PSFs for different wavelengths also normally differ in their intensity, both emitted by object and perceived by eye, which may affect contrast transfer by giving to it bias toward the wavelength of maximum intensity, since the intensity distribution loses the symetry around central wavelength). There is little difference between centered monochromatic (green) and full-range polychromatic PSF (black), thus also MTF, regardless of the sensitivity mode, and it is only in the ring area (photopic vs. even spectrum, small inset), and it is limited to the value of cutoff frequency, which is for polychromatic light determined by that for the shortest wavelength. This is based on the formalism describing polychromatic contrast transfer as the average sum of the transfer c for given frequency ν at each of i wavelengths, MTF(ν)=Σc(ν)i/i. As a result, long and short wavelengths nearly offset each other for the most of frequency range, with the resulting polychromatic MTF for the range gravitating toward that of the mid-wavelength; some residual contrast transfer extends beyond that for the central wavelength, not significantly influenced by eye sensitivity factor. While the nominal cutoff frequency for polychromatic MTF equals that of the shortest wavelength, it actual contrast transfer is much closer to that in the central wavelength.
For aberration-free clear aperture, the MTF is given by MTF=(2/π)[cos-1ν-ν(1-ν2)0.5]. It can be also expressed as:
with the angle α in degrees found from cos(α)=ν. Graphically, MTF contrast transfer equals the relative overlapping area of two identical circles, in units of the circle area (FIG. 62, top right), with the circle diameter normalized to 1, and the center separation s=ν varying from 0 when the circles are coinciding (ν=0), to 1 when only touching (the cutoff frequency ν=1).

MTF IN A PERFECT UNOBSTRUCTED APERTURE
MTF frequency
0.0
0.1
0.2
0.3
0.4
0.5
0.6
0.7
0.8
0.9
1.0
Contrast transfer
1.0000
0.8681
0.7483
0.6310
0.5138
0.4008
0.2983
0.1957
0.1069
0.0414
0.0000
Similarly, the normalized MTF for reduced aperture (still of unit diameter, with v=0 when the two circles are touching, smaller inside the larger), equals the overlapping area with the smaller circle appropriately reduced in diameter, with overlapping area being in units of the smaller circle area. The actual range of resolvable frequencies of a smaller aperture is in proportion to the aperture reduction factor. In terms of MTF, CTF is given as CTF=(4/π)[MTF(ν)-(MTF(3ν)/3)+(MTF(5ν)/5)-...].
It is important to understand that the MTF graph, such as the one above, does not set absolute values for the contrast drop, or limit to resolution. Both are strictly applicable only to the particular MTF object form used for its calculation: a pattern of bright lines on dark background, λF/2ν wide linearly, F being the focal ratio ƒ/D (i.e. linear width of the bright line at resolution limit is λF/2, or nearly one fifth of Airy disc diameter). Actual contrast drop-off and limiting resolution will vary with the specific properties of details observed, background, and peculiarities of eye perception, or detector properties. For non-continuous patterns, sinusoidal, square-wave, or others, contrast transfer will generally increase with the reduction in the number of lines (FIG. 102).
One example is the resolution threshold for low-contrast MTF-like planetary details which is, according to the LC threshold level in FIG. 62, approximately half of that for brightly illuminated contrasty object. Another is a dark line on light background, which can be detected at an angular width several times smaller than the angular diffraction resolution limit for point-images of ~λ/D radians, because it is the Edge Spread Function, not the PSF, that is applicable in determining its diffraction intensity distribution.
An actual object that comes very close to the standardized MTF scenario is a pair of nearly equally bright stars at the optimum brightness level. Resolution-wise, the MTF limiting resolution (cutoff frequency) is nearly identical to the empirical Dawes' limit in double star observing. However, for pairs farther from the optimum brightness level, or, especially, pairs with significant difference in brightness, the resolution limit is lower, or much lower.
Still, despite the MTF being standardized to a single object form sample and brightness level, it is considered to be a reliable general indicator of the effect of wavefront aberrations - or any other factor affecting wave interference in the focal zone - on image quality. As mentioned, given relatively low RMS wavefront level of any aberration will result in near-identical overall contrast loss, but the specifics will vary somewhat. FIG. 100 illustrates variations in the aberrated PSF (left) and MTF (right) for common wavefront aberrations of 1/13.4 and 1/6.7 wave RMS (graphs generated by Aberrator freeware, Cor Berrevoets).

◄ 6.5. Strehl ratio ▐ 6.6. MTF 2 ►