6.2. General effects of aberrations on image quality
What is common to all wavefront aberrations is that they result in less efficient energy concentration into a point-image. Consequently, image contrast and resolution suffer. How much of image deterioration is acceptable? Optical theory has developed methods of measuring the size of various aberrations, as well as their effect on contrast and resolution. These methods are based on complex diffraction calculations, but the final results can be expressed quite simply, giving the amateurs tools needed to understand and measure the effects of wavefront aberrations.
Image contrast is defined by relative intensities of its components. According to a simple formula, contrast of two adjacent surfaces is given by
c=(1-i)/(1+i),
where 1 is the normalized intensity of the brighter surface, and i the relative to it intensity of the dimmer surface. Thus, nominal contrast is independent of the brightness level (unlike detail resolution and detection, for which the absolute brightness, together with a contrast level, are determining factors). By spreading the energy out wider, wavefront aberrations lower contrast, and with it resolution and detection level.
For instance, if unaberrated image consists of two areas with relative intensities of 1 and 0.5, its contrast is 0.33. Unless the image is angularly much larger than the resolution limit of a telescope, this contrast level is appreciably lower than that inherent to the object, due to the energy spread caused by diffraction. If now, as a result of wavefront aberrations, additional 10% of the energy from either surface spreads onto the other, it changes the relative intensities to 0.95 and 0.55 or, after being normalized to the higher intensity, 1 and 0.58. This in turn lowers the contrast by 20%, to 0.266. Details of low inherent contrast, if small enough, will be lost, and the resolution capability of a telescope will be reduced in this respect. As the amount of energy spread out by wavefront aberration increases, it will lower the contrast more, beginning to affect resolution/detection of larger, more contrasty details.
The simplest indicator of the effect of wavefront aberrations and non-wavefront related diffraction factors, such as pupil obstruction of any form, is drop in the peak intensity of the diffraction pattern (PSF) produced. It is expressed as a single number, the ratio of actual peak diffraction intensity (PDI) vs. that of a perfect aperture. Thus, this relative number has values between 0 and 1. When the PDI drop is result of wavefront deviations from perfect sphere, it is called the Strehl ratio. For factors unrelated to the wavefront it is simply a central intensity ratio.
An optical quality indicator normally presented in the form of a graph, called Modulation Transfer Function (MTF), or Contrast Transfer Function, shows how contrast level in an optical system of known optical quality changes with the detail size. What is less known is that the Strehl ratio - and somewhat conditionally the peak diffraction intensity ratio in general - also indicate average contrast loss over the entire MTF range of frequencies (Strehl) or significant portion of it (peak diffraction intensity resulting from central obstruction)[1]. Hence, 0.92 Strehl, or PDI ratio, also indicates that the average contrast loss for details of all sizes down to the limit of resolution is also ~8%. This implies that average contrast loss and drop in central diffraction intensity are directly related.
The primary effect of wavefront aberrations and pupil obstructions - with rare exceptions - is change in the intensity distribution within diffraction pattern forming point-object image: namely, brightening of the rings area, at the expense of the central disc's brightness. Change in the intensity distribution within the pattern is more significant with respect to its consequences to image quality than usually insignificant change in size of the disc vs. ring area, if present. For aperture obstructions in general, the appropriate peak diffraction intensity (normalized to 1 for unobstructed perfect aperture) equals the relative unobstructed pupil area squared. As mentioned, it also determines the relative energy loss from the Airy disc and the associated average contrast loss.
For instance, central obstruction of D/3 that covers (1/3)2=0.11 of the pupil area, will reduce peak diffraction intensity from 1 (normalized) to (1-0.11)2=0.79. Likewise, spider vanes obstructing 2% of the area of this annulus will further reduce the peak intensity to 0.79(0.98)2=0.76. The corresponding average contrast loss over the range of MTF frequencies is ~0.24, or 24%. Should be noted, however, that this standard theoretical approach assumes near monochromatic point-source, which is effectively a coherent source. In the real world, light from astronomical objects, including stars, is polychromatic, thus partially (mainly) incoherent, and its effect on intensity distribution is significantly smaller (more details).
Similarly, peak diffraction intensity in the presence of wavefront aberrations is closely approximated by an empirical expression for the Strehl ratio. The fact that both, obstructions and aberrations have similar effect in that they transfer energy out of the Airy disc, allows for their comparison based on the peak diffraction intensity value. But this comparison is limited to the main reference point, which is 0.80 PDI, the conventional "diffraction-limited" level, regarded as a relatively loose line separating acceptable or better optical quality from unacceptable. In other words, nominal DPI comparison doesn't immediately specify optical quality level in the qualitative sense.
The simplest way to relate nominal PDI values to their qualitative implications on optical quality is to have them expressed in terms of reduction in the aperture size. The two have similar effect of reducing image contrast and resolution, but the mechanism is different. While the energy transfer in aberrated aperture mainly enhances the ring area, with usually no significant change in the size of central maxima (for errors not larger than ~0.15 wave RMS), the effect of aperture reduction is the enlargement of the entire diffraction pattern. The relative intensity distribution within the pattern doesn't change with respect to a perfect aperture, but the enlarged angular pattern size of a smaller aperture effectively does change intensity distribution relative to the smaller pattern of larger aperture. After factoring out reduction in light gathering power - which, unlike detection capability, doesn't affect nominal contrast - and resolution, both directly determined by the ratio of reduction (i.e. ratio squared and ratio, respectively), nominal contrast levels in smaller vs. larger aperture also can be directly compared. This also allows comparison of the contrast effect of aperture reduction to that of aberrations, central obstruction and chromatism.
The loss in limiting stellar resolution resulting from aperture reduction is directly quantified, but the important question is how is the contrast transfer of extended object affected in smaller vs. larger aperture. Relating integrated contrast transfers of the two in their entirety would give general information on contrast transfer and resolution of bright details with high inherent contrast. For more specific information on the relative contrast transfers of other detail types it is necessary to find out contrast transfer characteristics within resolving range of the smaller aperture vs. larger one. According to FIG. 99, such two sub-ranges within the range of resolved details in a smaller aperture are, approximately, normalized spatial frequencies 0<ν<0.11 and 0<ν<0.53, indicating the contrast level for dim and bright low contrast objects, respectively.
With the overall contrast transfer being proportional to the volume of the solid figure formed by 360º rotation of the MTF curve, which compensates for the relative contrast assigned to any linear change in plot height being inversely proportional to the normalized spatial frequency - as recognized by Mauro Da Lio during a lengthy forum discussion - the comparison of contrast transfer in smaller vs. larger aperture can be reduced to the comparison of the volumes determined by their respective curves. Since the solid figure formed by rotation of an entire MTF curve can be approximated by a cone, with the volume given by V=hr2π/3, where h is the height and r is the base radius, the relative contrast transfer in a smaller vs. larger aperture is given by a square of the ratio of two apertures (since h=1 and limiting resolution given as normalized spatial frequency is proportional to the aperture diameter).
This gives that, for instance, halving the aperture results in 75% loss in contrast transfer over the full range of frequencies of the reduced aperture, which is comparable to the effect of 0.6 wave P-V of primary spherical aberration (note that the specific contrast transfer distribution at this large error level is likely to vary considerably for different error types; in this particular case, contrast transfer for twice larger aperture with 0.6 wave of s.a. is significantly lower within resolving range of twice smaller aperture, but it is compensated by its contrast transfer in higher frequencies).
For assessing relative contrast transfer within the above two sub-ranges of frequencies for smaller aperture, the same approach requires computing the ratio of volumes for two solid figures, each consisting of a cylinder and a cone (FIG. 92 A). All that is needed for this is the height of the cylindrical portion, given by
c=(α/90)-sin2α/π (Eq. 57),
with the height of the cone given by (1-c).
Denoting the smaller-to-larger aperture diameter as a, the relative contrast transfer in smaller vs. larger aperture is given by a2. The height of the cylinder section under the MTF curve at 0.11 and 0.53 spatial frequencies, cD and cB, respectively, is given by using ν=0.11 and 0.53 and, since the relative frequency ν in smaller aperture equals aν in larger aperture, ν=0.11a and 0.53a in Eq. 57 for the smaller and larger aperture, respectively.
In summary, the contrast transfer in a smaller relative to larger aperture, with the smaller-to-larger ratio of linear apertures a, can be observed in four different spatial frequency domains:
A - within the full range resolvable in larger aperture (all apertures considered aberration-free), the relative contrast transfer ratio of smaller aperture is given by CRL=a2
B - within the full resolving range of smaller aperture, the relative contrast transfer ratio of smaller vs. larger aperture is given by CRS=1/(2ca+1), with ca obtained by substituting a for ν in Eq. 57; this value, however, needs to be corrected for the smaller aperture contrast "volume" calculated as a plane cone being larger than the actual volume by about 20% (outlined by the diagonal dashed line, and black MTF plot line on FIG. 92 A). This is not a significant factor for A, C and D relations, where both volumes are similarly affected, but here disparity in actual volumes begins to gradually accumulate with aperture reduction, to reach the maximum of about 20% at a~0.8 and smaller; to keep the figures as simple as possible, we will assume that the disparity grows by 1% for each 0.01 of aperture reduction down to a=0.8, and remains at 20% after that
C - within the range of resolvable bright low-contrast detail in smaller aperture, CRB=(cBS+1)/(cBL+1), with cBS and cBL obtained by substituting ν=0.53 and ν=0.53a in Eq. 57, for the smaller and larger aperture, respectively
D - within the range of resolvable dim low-contrast detail in smaller aperture, CRD=(cDS+1)/(cDL+1), with cDS and cDL obtained by substituting ν=0.11 and ν=0.11a in Eq. 57, for the smaller and larger aperture, respectively


FIGURE 92: LEFT: Contrast level of unaberrated smaller aperture at a normalized spatial frequency ν on an MTF graph compares to the contrast level aν of unaberrated larger aperture, a being the smaller-to-larger linear aperture diameter ratio. On the graph shown, a=0.5, with ν=1 spatial frequency in smaller aperture coinciding with ν=0.5 in the larger. Relative contrast cB and cD at the approximate resolution thresholds for bright low-contrast (BLC, determining the corresponding range of resolvable detail B) and dim low-contrast (DLC, determining the corresponding range of resolvable detail D) detail, respectively, determine the height of cylindrical portion of the volume under MTF curve, with the height of the cone being (1-ci). MIDDLE: Actual contrast levels in apertures of different sizes deviate significantly from their unaberrated contrast levels (bold solid lines), mainly due to the effect of seeing error and thermally induced errors, whose averaged magnitude is greater in larger apertures. In general, larger apertures lose more of their theoretical performance level, as the shift of their respective resolution thresholds (marked with squares) to the left indicates, with the actual contrast level tending to roughly even up. Larger apertures, however, still have an edge in resolution, both within the BLC range, as well as over the full resolving range. RIGHT: Contrast levels for the same apertures in the range of error larger by a factor of 2, and smaller by a factor of 0.5 than the averaged randomly varying seeing/thermal error (plots generated by Aberrator). With better seeing larger apertures regain more of its contrast/resolution advantage, with 600mm aperture resolution threshold (green square) exceeding that of 300mm aperture (orange square), and both coming markedly ahead of 150mm aperture (blue square). However, even then, there is no significant difference in the overall contrast level between the three aperture sizes. In the actual field performance, a number of other factors - central obstruction, (mis)collimation, quality of optical surfaces, mechanical quality, etc. - may significantly influence telescope performance level.
This gives, for instance, that twice smaller aperture (a=0.5, ca=0.39, cBS=0.36 , cBL=0.67, cDS=0.86 and cDL=0.93), will have 25% of the contrast transfer (CR=0.25) over the resolution range of larger aperture, and 58% over its own full resolving range, 81% over its bright low-contrast detail resolving range, and 96% over its dim low-contrast detail resolving range. Since the average contrast figure is tightly related to the peak diffraction intensity and Strehl ratio, it is possible now to compare either obstruction effect, or that of wavefront aberrations, with the effect of reduction in the aperture size.
The comparison is necessarily partial, relating only to the contrast level. Beside its effect on contrast, linear aperture reduction is causing both, commensurate loss in stellar resolution and exponential loss in light gathering power, which is not the case with either wavefront aberrations or common-size central obstruction. However, similar PDI values - either resulting from obstruction or wavefront aberrations - will result in a comparable effect contrast-level wise (i.e. quality level) within any of the four chosen ranges of frequencies in smaller vs. larger aperture.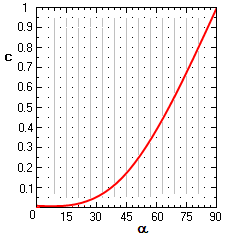 For instance, looking for the comparable in effect aperture reduction to 0.80 Strehl or PDI within resolving range of larger aperture, thus contrast ratio CRL=0.8, with the contrast ratio in smaller aperture given by (A) equation CRL=a2, gives the corresponding aperture diameter ratio a as a=√0.8=0.89. So 11% smaller aperture has the overall contrast transfer reduced by 20%. But within the full resolving range of the smaller aperture, the corresponding aperture reduction ratio a for this level of contrast drop is, from (B) equation CRS=1/(2ca+1), and
ca=[(1/CRS)-1]/2=0.125. No simple way to extract the corresponding angle α, thus cosα=ν=a, from ca=(α/90)-sin2α/π is at hand. For this purpose, a look at the graph to the left, showing α as a function of c, will suffice. It indicates the corresponding α value of ~40 degrees, and ν=cosα=a=0.77. In other words, relation (B) gives that 23% smaller aperture, linearly, will have contrast transfer over its range of resolvable frequencies lower by 20% than the larger aperture in that same range.
As noted, this value needs correction, since the actual contrast-figure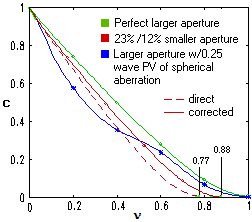 volume, relative to that of the larger aperture, is ~20% smaller for a<0.8 than the volume of a cone with identical base. In this case, the actual CRS at 0.77 is only about 0.62. Since correction apply at a rate of 0.01 volume deduction as a declines from 1 to 0.8, remaining constant at 0.2 after that, correct a value satisfies equality 0.8/(2cac+1)=0.8 for correct aperture ratio value a<0.8, or a/(2cac+1)=0.8 for 0.8<a<1. It is clear that the latter apply in this case; taking a=0.9 for the first iteration gives cac=0.0375 and a/(2cac+1)=0.84. Second iteration with a=0.88 and cac=0.05 gives a/(2cac+1)=0.8, hence the correct aperture reduction ratio is a=0.88. Although nominally identical, this contrast reduction doesn't have to coincide with that caused by a wavefront error or central obstruction lowering the overall contrast in larger aperture by 20%. As the illustration to the right shows, a 1/4 wave P-V of spherical aberration in larger aperture affects lower frequencies more than the aperture reduction, while contrast loss due to aperture reduction grows gradually toward higher frequencies, to the very limit of resolution. The graph indicates that the corrective scheme works reasonably well.
Similarly, the corresponding aperture reduction resulting in contrast ratio CRB=0.8 for the range of resolvable bright low-contrast objects in smaller aperture (FIG 92, B), with cBS=0.36 for νS=0.53, and cBL, from (C) equation CRB=(cBS+1)/(cBL+1), gives cBL=[(cBS+1)/CRB]-1=0.7. A look at the α/c graph above indicates the corresponding α value of ~76 degrees, thus the aperture reduction factor cosα=0.24=νL, and the corresponding aperture ratio a=νL/νS=0.45. Thus 55% smaller aperture will have, within its range of resolvable low-contrast details, 80% of the contrast transfer of unit aperture.
Identical procedure for CRD=0.8 over the range of resolvable dim low-contrast objects in smaler aperture, with cDS=0.86 for νS=0.11, and cDL, from (D) equation CRD=(cDS+1)/(cDL+1), gives cDL>1, which means that no reduction in aperture can lower average contrast in this range to 80% of that in the larger aperture.
But comparing unaberrated apertures does not give realistic picture of their real life performance. Larger apertures are significantly more affected by seeing and thermally induced errors (in general, all optical errors tend to increase with the aperture, but these two are dominant). Seeing-induced RMS wavefront error nearly corresponding to the visual Strehl approximation on FIG. 36, is given by ωs~0.02D0.26(D/r0)5/6 (for the aperture diameter D in mm, r0 being the Fried parameter), and the cumulative (tube currents, off-surface convection, surface deformation) thermally induced RMS wavefront error is approximated, very loosely, as ωt~D
(mm)/10,000 for every 1°C of thermal differential.
Thermally induced error at 2°C differential is nearly negligible in comparison; at ~10°C differential it reaches the level of seeing error, nearly independent of the aperture size. Of course, specific telescopes can deviate significantly from this attempted loose average. However, considering that thermally induced error - unlike the seeing error - can be greatly alleviated by relatively simple means, it seems appropriate to assume it to be relatively small in comparison.
In 1 arc second seeing (r0~144mm@550nm) - better than most people can count on most of the time - and with only 2°C thermal differential, the picture with respect to contrast level in larger vs. smaller aperture is completely changed. Factoring in the effect of these errors nearly wipes out contrast advantage of larger aperture. On the average, large aperture has advantage of being capable of resolving smaller details (FIG. 92 middle). It becomes more pronounced in actual observing, due to constant error fluctuations benefiting the larger aperture more, by improving contrast in the high-range frequencies at lower than average errors, while being not significantly more affected, comparatively, at the above average errors (FIG. 92 right).
An interesting implication by the MTF graphs is that large apertures in poor seeing can have partial black-out, or significantly lower contrast level than smaller aperture in a relatively narrow lower-frequency range, recovering toward higher frequencies.
All this suggests that, in actual field condition, gain in light gathering power and resolution with the increase in aperture size is much more significant - even if much smaller than what perfect aperture "scenario" would predict - than near-nonexistent gain in contrast over . Considering that large telescopes tend to have greater error contributions from other sources as well (gravitational deformations, central obstruction almost invariably part of larger apertures, overall design correction level, misalignment, and so forth), their image contrast is more likely to be actually inferior compared to smaller apertures.
For telescopes capable of efficiently correcting for the seeing error, or operating outside an atmosphere, following table gives an overview of the relation between the RMS wavefront error, peak diffraction intensity (Strehl), size of central obstruction, chromatic aberration and aperture reduction, based on relating MTF contrast drop in smaller apertures to the appropriate drop in central diffraction intensity.
RMS wavefront
(λ=1)

PDI (Strehl)

Central obstruction
(D=1)

Chromatic aberration
(doublet achromat D=100mm)

Aperture reduction (D=1)

Over full resolving range of larger aperture

Over full resolving range of smaller aperture

Over low-contrast detail resolving range of smaller aperture

0

1

0

~ƒ/60

1

1

1

0.025

0.98

0.12

~ƒ/50

0.99

0.98

0.94

0.050

0.91

0.24

~ƒ/16

0.95

0.94

0.80

0.075

0.80

0.34

~ƒ/9

0.89

0.88

0.45

0.10

0.67

0.46

~ƒ/5

0.82

0.81

-

0.15

0.41

0.64

~ƒ/3.5

0.64

0.43

-
There is no values for aperture reduction causing 0.67 and 0.41 drop in the contrast transfer over the low-contrast detail resolving range of smaller aperture, because no aperture reduction can result in that magnitude of contrast loss in this range.
Alternatively, the effect of aperture size on image contrast can be modeled directly by assessing the effective energy spread. Taking the PSF of larger aperture as the default PSF, angularly larger PSF of a smaller aperture effectively represents energy transfer from its center to the outer areas. Since the brightness level is irrelevant for the nominal contrast transfer, both PSF are normalized to 1. However, since they need to contain identical total energy, the peak PSF value of the smaller aperture (i.e. its normalized height) is lower by the ratio of smaller vs. larger aperture (in effect, that equalizes the volumes under the 3-D PSF, which represents the amount of energy).
Consequently, reducing aperture by a factor of 2 would effectively lower its central maxima to 0.5, which now represents its nominal Strehl. However, since the central maxima doubles in radius, the original Airy disc contains less than ~50% of the energy, which this nominal Strehl value would imply in the usual scenario with wavefront aberrations when most of the energy transfer is to the rings, and changes in the size of central maxima are relatively small. Using encircled energy approximation for the central maxima, EE~1-2-P, with P=3.77r2 for r the radius in units of λF, taking r=0.61 gives encircled energy for the reduced aperture as 0.31 of the energy encircled within that radius before aperture reduction. Since it is the energy distribution, rather than the nominal peak, that determines contrast transfer, it is this encircled energy value that reflects averaged contrast transfer more accurate than the nominal Strehl value.
Thus, the effective contrast transfer indicator - in that respect comparable to the Strehl value with standard aberrations - for aperture reduction can be approximated by SR~(1-2-P)a, with P=3.77(1.22a)2=5.6a2, with a being the reduced vs. full aperture ratio. This reflect the effect of diffraction in unobstructed aberration-free apertures.